Out of all of my classes in Fall 2014, the final project for FSAD 2310 – Fashion Product Management was my favorite. I think presentations are my strongest skill and one that I enjoy the most.
Our task was to make a pop-up shop from either J.Crew, Nike, Gap, Victoria's Secret, and Forever 21. We chose Forever 21 because there is more design freedom in that Forever 21 doesn't really have a set design identity. We also liked that we could create a higher priced line made from reputable and sustainable manufacturers. This could be paired with a campaign highlighting the new labor-friendly and environmentally responsible efforts of the company.
Our resources came from a variety of areas such as WGSN, Nielsen PRIZM Market Segmentation, Market Line, and Nike Making App. I visited WGSN last year on a study tour and I didn't really "get" what the site was for. After using it for an entire semester, I really understand how valuable a site it is.
We also had to do several presentations throughout the semester and was lucky enough to have one of our presentations photographed and blogged by Nancy Fire, Design Director of HGTV Home. She talked about our project on her Design Works International website: Mentoring Cornell Students.
At the end of the semester we posted our final presentation in the hallways of the HEB building.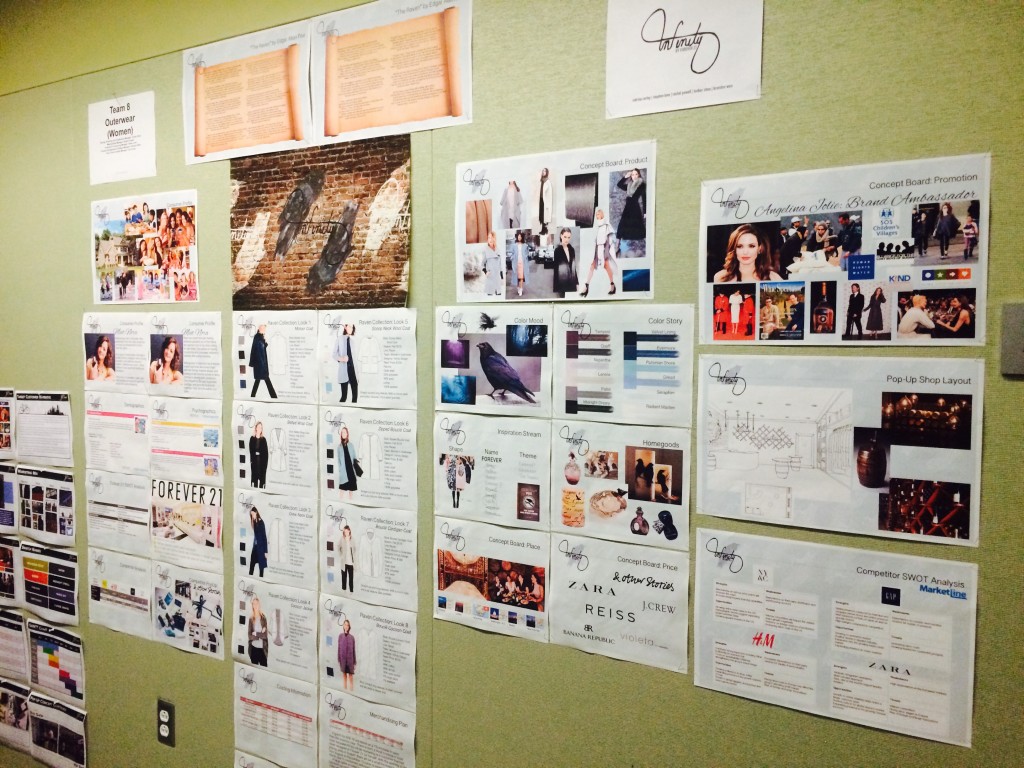 You can view our design presentation in the slideshow below.
On a PC, drag your mouse from right to left to go to the next slide. On a touch screen mobile device, use your finger to swipe right to left.
–
Forever 21 and Corporate Social Responsibility
& Other Stories
Angelina Jolie Charities
Edgar Allen Poe's The Raven