Another project from my Fall 2013 class FSAD 1170 – Fashion Graphics, was the mask project. With color as our main focus, we were to design a mask that embodied three of the following themes: Perfect Face Perfect Body, Icons and Idols, Personal Symbolism, Stardom and Royalty, or Networked Presence.
With strong color in mind and while looking through my professor's sketch book the idea of Mommie Dearest came to mind. The thing I remember most about Joan Crawford (or Faye Dunaway as Joan Crawford) was her thick black eyebrows and her bright red lips. I set upon a task to capture her essence in a mask. Furthermore, the mask would represent Perfect Face Perfect Body, Stardom and Royalty, and Personal Symbolism. The mask below is the final result: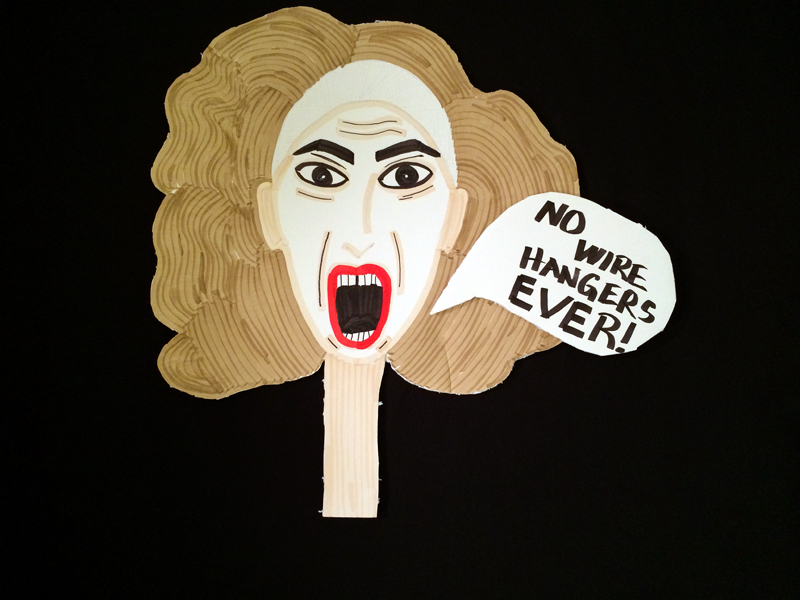 It came out perfectly. I managed to capture the essence of the wire hanger scene using four distinct colors and the seemingly lack of color provided by the white foam board. I was extremely pleased at the way the hair turned out. The strokes made it look like wood grain. The eyebrows and lips were executed well enough to capture Joan's facial expression in that infamous scene.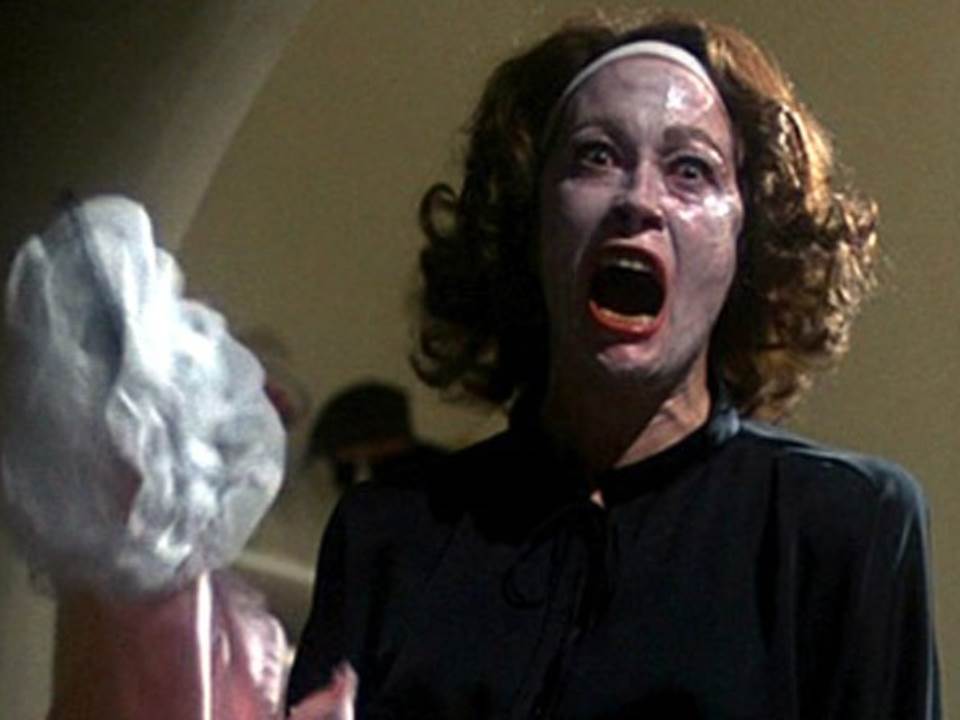 The best part of the project was exposing freshman to the Mommie Dearest. Most of them had never seen it before and I got a twisted sense of pleasure from being the one to give them the gift of "The Wire Hanger" scene for the first time.
If you haven't seen it awhile, check it out, it is still as ridiculous and over the top as ever. The part where she finds the second wire hanger is the best! I usually it turn it off at the part where she actually hits the child with the hanger because child abuse is NOT funny.
If the video isn't embedded below here's the No Wire Hangers – YouTube link.

Here's the short write-up I did to accompany the slideshow below (.pdf):
Joan Crawford – No More Wire Hangers
Joan Crawford – A Life in Pictures – Slide Show

In addition to making the mask, we then had to create a magazine cover for Purple Magazine with the theme of "make-down". I used celebrities that people love to hate and/or are controversial in some way. Someone actually made an expensive, collectible Mommie Dearest doll and it amused me how it would be really tacky to paste my mask's head on the doll's body.